Lesvos Outreach Project: Why caring for refugees outside the camp is also important to us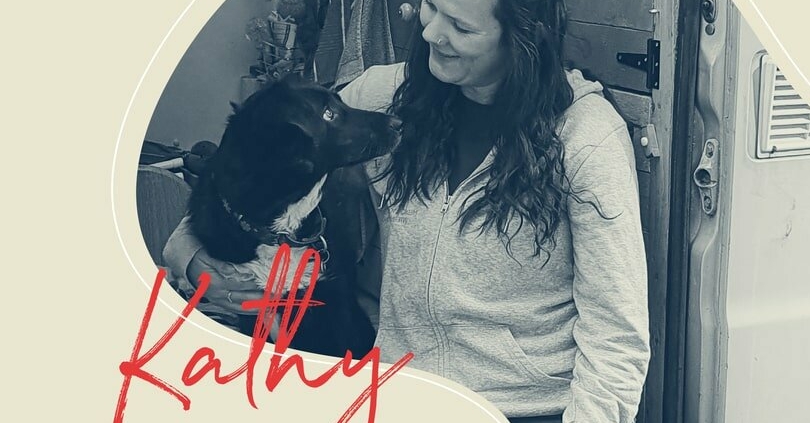 "Let's stop making people illegal for trying to provide safety for themselves and their families"
Kathy James has previously helped build houses in Guatemala and provided healthcare to those in need in Kenya as a nurse. Since 2019, she has been working for the Hamburg-based association, which provides medical aid for refugees in Greece and Bosnia. With her campervan Bonnie and dog Nyx, she travels back and forth between the locations – always to wherever she is needed at the time. In her home country of England, Kathy left friends, family, and the option of a career behind for this.
Kathy, how did you end up working as a nurse with Medical Volunteers International (MVI)?
I stayed with a couple from Hamburg through Couchsurfing. They told me about a Facebook post where MVI was desperately looking for trained nurses in Thessaloniki. That was in August 2019, so I applied right away.
It wasn't the first time you got involved with a human rights organization. What drives you?
Ever since I was a child, I knew I wanted to help people in emergency situations. I still remember seeing the photos of the war in Yugoslavia in the newspaper and thinking: "I just can't stand it when people are in need and their rights are violated".
You are currently working on Lesbos. What problems do you encounter there?
Many people here are in a desperate situation. In the camp, they sometimes have to share a tent with over 100 other refugees. The tents are not insulated: In summer it gets extremely hot, in winter a strong freezing cold wind blows in from the sea. And in the meantime, the residents are only allowed to leave the camp twice a week for three hours – the pretended reason of the authorities: Corona. But this makes the camp more like a prison.
What are the most common health complaints?
Many of the refugees have mental health problems – the fact that they are hardly allowed to leave the camp really affects them. The constant noise, dirt, and lack of anything to do is a severe problem. In addition, they are always looking at the ocean, which every single one of the refugees in the camp has crossed. Some have only just survived the crossing and are traumatised by the experience. They also suffer from skin problems due to the unhygienic conditions, back pain from the hard beds, and respiratory problems from the dusty floors. Burns are a major problem in camp due to the refugees cooking in the limited space they have trying to add nutritional value to their food rations or from them filling plastic water bottles with hot water to keep themselves warm.
You are the coordinator for the Medical Outreach Project on Lesbos that was started 6 months ago. Why did you feel there was a need to run a project outside the camp?
There are many different reasons why people live outside the camp. A lot have received a positive asylum decision and therefore have had to move out of camp but struggle to access healthcare and can not contribute towards the payments for medication as they have no cash assistance. Some are particularly vulnerable: perhaps have been victims of gender-based violence, part of the LGBTQI+ community, or an ethnic minority and exposed to discrimination. In total, there are currently around 700 refugees living outside the camp who require medical assistance. That is why we are working both inside and outside the camp.
What did you have to give up in order to do this work?
Time with friends and my family. Fortunately, I have made friends almost everywhere in the world. But I have hardly seen my nephew, who was born last year. I regret that sometimes. I have missed out on many job opportunities in the UK: I had a good job as a Community Matron. But of course, they don't wait forever for you. But my work here is always worth foregoing a 'career'.
What is your realistic utopia of a more just world?
I would like to see all people being able to make fair asylum applications – already in their countries of origin. At the moment, this is not possible in many countries. That's why many currently have to risk their lives to be able to apply for asylum in Europe.
The asylum process is floored and heartbreaking experiences are often discredited. A startling example is if someone has been tortured, the scars on their body alone are not enough evidence. Medical documentation is needed however most refugees do not have access or are not aware of this and without services from legal NGOs are completely unprepared for their interview. Let's stop making people illegal for trying to provide safety for themselves and their families and instead assist them to be safe.
Thanks very much, Kathy, for the interview.
https://medical-volunteers.org/wp-content/uploads/2021/11/MVI_Kampagne_21_Portrait_Kathy_Instagram-min-e1636742810541.jpg
607
810
Benjamin
https://medical-volunteers.org/wp-content/uploads/2018/11/2018_08-DM-Logo-Refresh_end_transparent_RGB.png
Benjamin
2021-11-17 08:57:42
2021-11-20 08:53:42
Lesvos Outreach Project: Why caring for refugees outside the camp is also important to us