Be a fundraiser. Support MVI.
THANK YOU for choosing to fundraise for Medical Volunteers International. This is a huge valuable source of income for the organization and a key enabler of the important work we do in Greece.
Here are some collected tips and ideas from former volunteers, to make things easier for you!
1. Fundraising on Facebook is the easiest way
Still one of the easiest way to collect money and spread the word are the social media channels, especially Facebook. And its so easy to raise money via Facebook. 
With this link you will be able to easily create a fundraiser for Medical Volunteers International e.V. The first steps are already done.
You decide the setting of your fundraiser: the goal, the duration, explaining why you choose MVI and what you want to raise funds for. Share your fundraiser with your friends or with groups, you are a member. Best thing is that you don't have to worry about the money – facebook will transfer the donations directly to us.
How to set up your Facebook fundraising
Step 1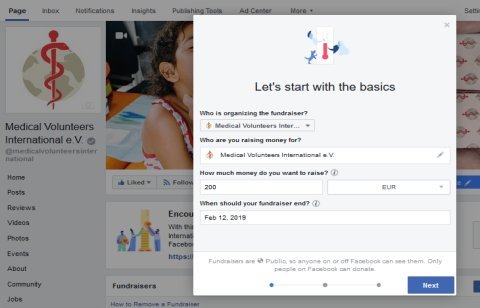 Step 2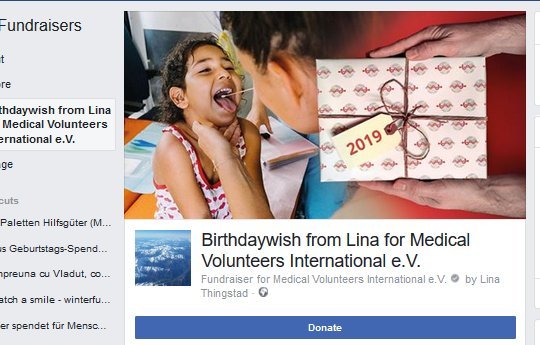 Step 3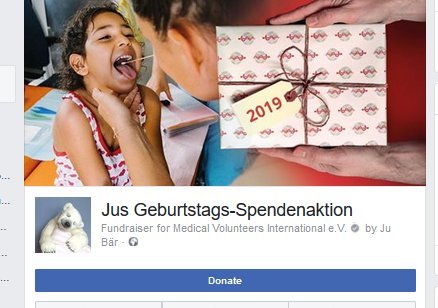 2. Alternative Plattforms
We are also registered as a charity with the online fundraising platforms betterplace.org and GivenGain. In just a few steps you can set up your page and be able to start receiving donations for your fundraiser. 
Just three steps to start your own fundraising event
Choose a charity

Pick MVI as the charity you want to raise funds for
Create a project
Set up your fundraising page. Add images and videos if you like.
Share it with the world 

Share your project with friends, family, team mates, colleagues – anyone who will support your project
3. Become creative on your own
CHALLENGE YOURSELF. Set yourself an ambitious goal and ask friends, family and coworkers to sponsor you.
Birthday? Wedding? Anniversary? 
Why not use your special event as a way to raise funds. Rather than a gift ask people to donate to MVI instead.
How your money will be used
In the end, let us shortly show you, how the money you raise will be used!
30% on medication and medical equipment
50% are operational costs on site like vehicals and accommodation
20% are organisational and administrative costs