The days become shorter, the nights longer and colder. In the Greek city of Thessaloniki, too, winter is just around the corner. While on the one hand the temperatures drop abruptly, on the other hand the numbers of the homeless and refugees rise. What we now want to and can help with on the spot is warm clothing.
What does one handmade winter pant cost? For us it's a smile. For you it's 10 Euro.
The team around our master tailors Zoi, Taoufik and Rezgad from the NAOMI sewing workshop in Thessaloniki has everything they need for the project »4000 winter pants«: the professional competence, the necessary passion as well as the appropriate sewing machines and professional helpers for the production of the winter pants.
All this primarily costs us a smile, okay – and plenty of logistics. We need your support for the materials: 4000 winter pants means a lot of high quality lining panels, yarns, threads, buttons, zippers and above all: fair pay for the employed refugees.
One handmade winter pant costs exactly 10 Euro. But it gets even better: With a donation of 10 Euro you not only finance the production of a warming, robust winter pant. On top of that, you will also help to secure fair and protected jobs for refugees in Thessaloniki and even create more jobs.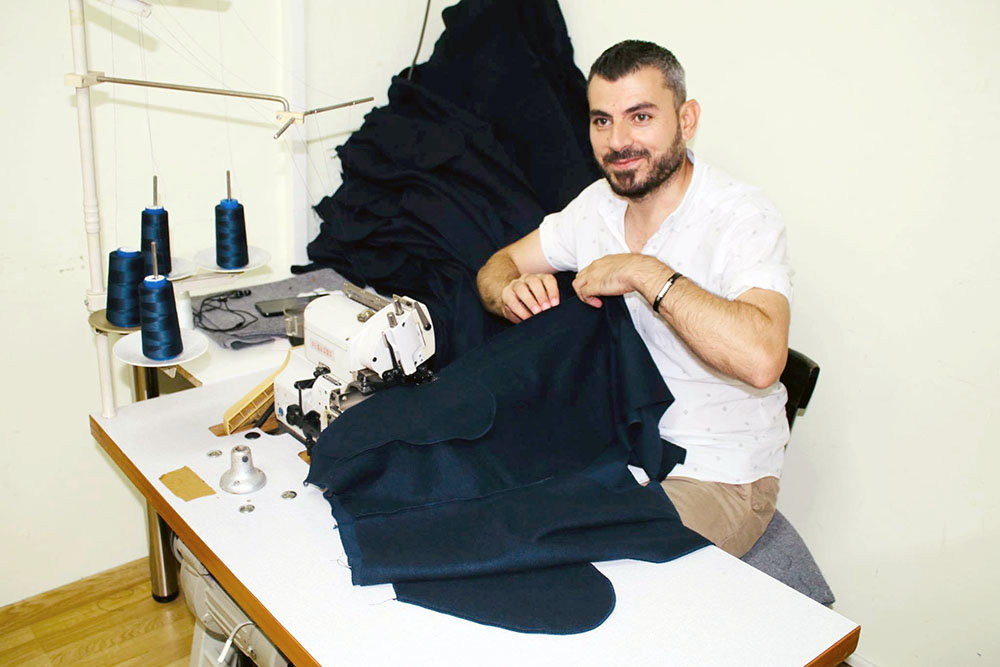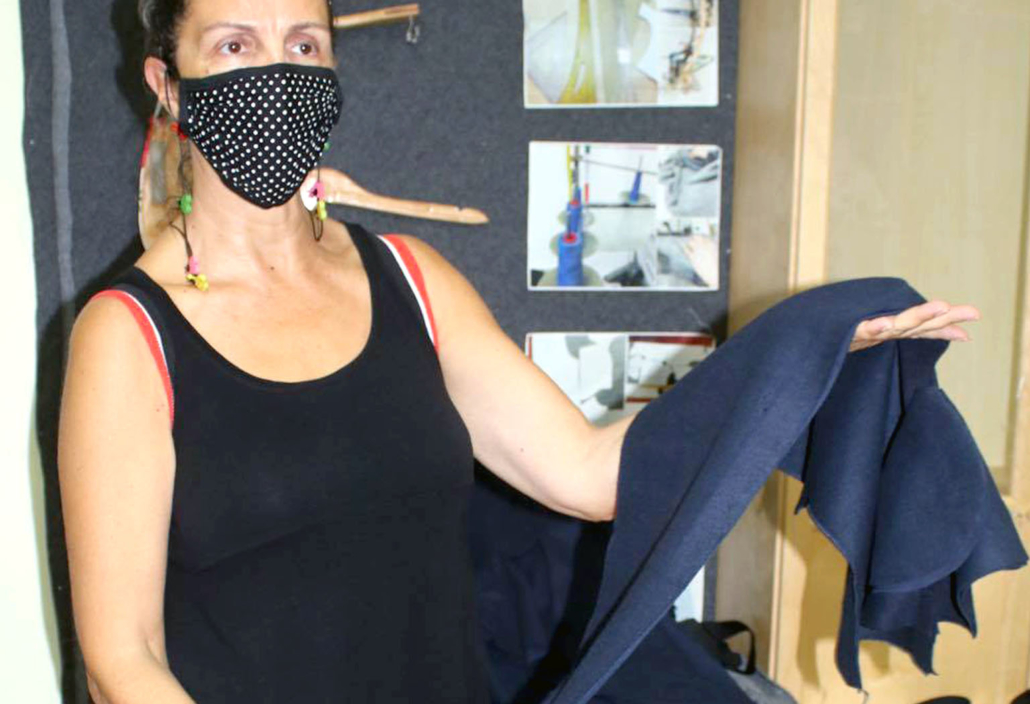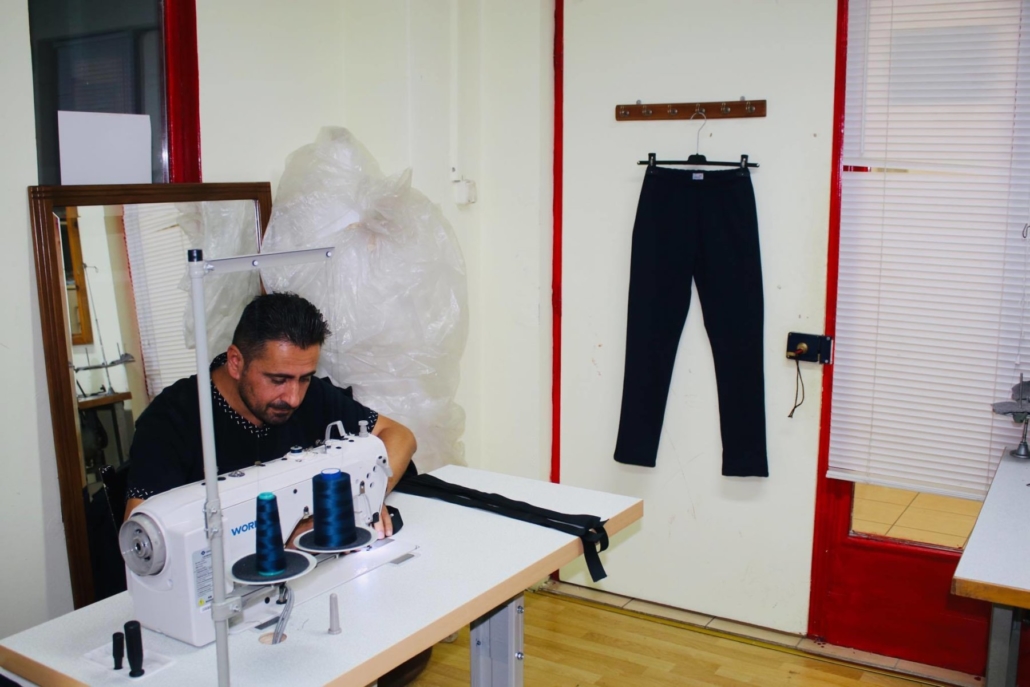 The most important button for 4000 winter pants
Is the donation button.
As simple as the idea of the united three associations NAOMI, WAVE and MEDICAL VOLUNTEERS is the possibility to support us with a donation – without any additional costs and without any risks. Simply by pressing a button. We are looking forward to your support! Of course you will receive a digital donation receipt* upon request. Just click on the corresponding field.
*(Only possible for donations via this online form or donations via the account of MEDICAL VOLUNTEERS International, #4000WinterPants).
Account:
NAOMI
 bei der Evangelischen Bank
IBAN: DE 80520604100005001340 BIC: GENODEF1EK1
Subject: Winterhosen
If a non-profit association can make a difference here, what can actually be achieved by three associations working together? How about 4000 handmade winter pants!
For the donation project »4000 winter pants« three experienced and respectable non-profit aid organizations make common cause. Because together we are not only stronger. We are also very well networked. This allows us to maximize our competencies and supporters and not just dream our bold target of 4000 handmade winter pants, but with your help we can also realize it as quickly as possible.
»I've met so many wonderful people. My assignments here have made my life infinitely richer.«
Everyone in Thessaloniki knows Dorothee, originally from the rural Willenscharen in Schleswig Holstein. From 1975 to 2009 she worked as a pastor in Thessaloniki for around three decades. Since 2011 she has been the head of NAOMI refugee aid. Always full of verve and enthusiasm, she organizes vocational trainings and further educations in the association's sewing workshop. Perfectly supported and under fair conditions.
»I want to use my privileges to help those who aren't in my position and don't experience the equality I do.«
Justyna is a young woman who has been taking care intensivly – since three years – of people with a migrant background who live on the streets of Thessaloniki. Because of the project she started, the needy are provided with warm meals day after day and with important little items for daily needs – from shampoo to socks. For most of them, Justyna has become something of a caring big sister.
»We can't help everyone. But everyone can help someone.«
Rose or Mama Rosa, as she is lovingly called here by everyone, has been the coordinator for MEDICAL VOLUTEERS, activist and street worker in Thessaloniki for three years. Anyone who drives through Thessaloniki with Rose and her ambulance or walks through the streets notice at every corner, to whom she has already given a smile to, disinfected a wound or organized a sleeping bag.
NAOMI.
Our textile workshop in Thessaloniki offers refugees a protected space and the possibility of training and further education in tailoring.
WAVE.
Our streetworkers and activists in Thessaloniki look after and care for the homeless and refugees, cook and provide them with food.
MEDICAL VOLUNTEERS.
Our international team of doctors, nurses and paramedics provides help and first aid for people in need in the crisis areas.